Another Way to Look at Labor Market Slack ...
Slack in a labor market is an interesting concept. Technically, it's defined as the difference between the unemployment rate and the natural rate of unemployment, and a complete explanation is beyond the scope of our brief opening analysis. So, let's look at this concept of slack in a different way. There are two primary components of labor market slack: 1) people who want to work full-time but only working part-time (often referred to as underemployed) and 2) hidden unemployment, which consists of people not actively looking for work -- and therefore not officially considered as unemployed -- but would join or rejoin the workforce if they think they could get a job.
But here's a different way -- and one not necessarily officially recognized -- of looking at labor market slack. It incorporates two very different measurements of employment and jobs of different aspects of the labor and job market. As you may know from reading our reports, the monthly employment situation is actually composed of results from two separate and distinct Bureau of Statistics programs. One, the current employment statistics program, or CES, but often referred to as the jobs report, surveys a sample of employers and asks how many paychecks they issued; the other is the current population survey, or CPS, but often referred to as the household survey, queries people regarding their employment status. Since these two programs are looking at different aspects of the employment / jobs economy, they do not get the same results. This is why in any given month, more people may report that they are employed than employers say they have jobs, or vice-a-versa. Although it rarely happens, there have been the isolated occurrence of employers adding jobs while fewer people report they have a job.
If an employer issues a paycheck, regardless for full-time or part-time work, it counts as a job for the CES so if they have one employee who worked five hours during the survey week and another who worked 40 hours, that is counted as two jobs. Or if one employee worked three hours, another worked nine hours, and a third worked 15 hours, that is marked as three jobs by the employer.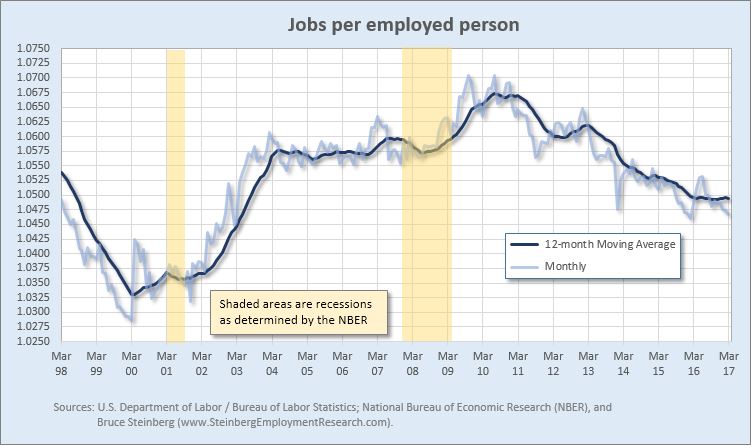 On the other side of the employment situation, if a person worked and was paid, they are considered as employed, regardless if they worked and was paid for five hours in a week or worked a full 40-hour week.

So, we thought it would be a good idea to look at the number of jobs per employed person over time. And we offer a disclaimer that these two data series -- the CES and the CPS -- technically should not be compared to each other, but change in the ratio between the two series is an interesting exercise nevertheless.

As the chart shows, from at least 1998 to early 2000, as the economy was doing well, the number of jobs per employed person trended downward but began to rise before the recession of 2001 hit. Then after the 2001 recession ended, the number of jobs per employed persons began to rise until leveling off about half way through to the start of the next recession, which many have labeled as the Great Recession because of it lasting 18 months.

Then after the end of the Great Recession, the ratio began to rise again, but not a steeply as after the previous recession, perhaps because it was already at a relatively high level. During 2010 it began to decline until early 2016 when the ratio leveled off and has been relatively unchanged since then.

What does this all mean? Since this ratio is not really part of any official economic indicators, we can only make some conjectures. People are now working at fewer jobs per person during the second half of economic expansion between the 2001 and Great Recessions, but more than expansion prior to the 2001 recession. And the recent leveling off of the jobs per person ratio could indicate a new "normal" and since it's at a level lower than before the Great Recession, there could be fewer jobs per person now, there are fewer people qualified for the jobs that employers are creating, there is insufficient slack in the labor market to absorb the number of jobs, and / or people don't need to be working at more than one jobs as much. Or, and taking into considerable the two recessions were ten years apart, the sharp rise in multiple job holders after the 2001 recession could have been a function of the number 16-to-25 year olds in the labor pool who are more likely to have part-time jobs, ostensibly because of working schooling.

What do you think? Let us know here.
Our
Temporary Help Services Interactive Data Book
tool will enable to view the local (down to the county level) temporary help services trends as well as benchmark your local staffing operation to discover exactly where you are positioned in the market and if your offices are performing up to the local market.
Then use our
Employment Tracking Tool
that is designed to assist you in identifying and evaluating new sectors and markets. It examines the overall employment trends by industry in the given market to help determine possibly under-serviced industries to target marketing efforts (as well as what industries to avoid). By doing this, it shows what industries are growing and therefore are in expansion mode making them eager for a wide variety of products and services and likely in need of additional staff.
See further descriptions of these two strategic planning tools and links to the demos
---
New employment projections focusing on temporary help services to 2024 now available ...
We've put together a free, ten-page report pulling out information that we feel is very relevant to staffing industry executives.
It's heavy on data in tables and graphics but not words -- that way we can provide a lot information in those ten pages.
With the release of biennial employment projections covering 2014 to 2024, data are now available at a more granular level. So instead of only being able to report projections for the entire employment service sector -- which include temporary help services, professional employment organizations, employment placement agencies, and executive search services -- as in the past, we are able to focus in on only temporary help services.
But we don't stop with information with only temporary help services. Other information that staffing professionals can use for long-term planning include several tables that show the industries and sectors with the fastest as well as the largest numerical job growth And we also include information about the occupations / jobs that are projected to have the fastest as well as the largest numerical growth.
Call us crazy -- you wouldn't be the first -- because all of this valuable information is free. The report can be downloaded from here. And check out the bookmark function in your PDF viewer ... it enables the reader to skip around the report and also is a de facto table of contents.
---
Looking for more? Check out our podcasts!
Podcasts of the current employment situation will be available by 4:00 p.m. ET, Thursday, July 3rd. The video podcast, which you can start and stop to study the tables and graphs as well as replay individual sections, includes additional data and information. Watch the video version here or just listen to the audio version here (no special hardware or software required), which also can be downloaded to an iPod or any smartphone.
April 2017 Employment Report
Quick recap
Overall job growth was a very respectable 211,000 in April while March's previously reported dismal performance was revised even worse to growth of only 79,000; one year prior in April 2016, growth was 153,000. Temporary help services growth continued and finally broke the 3,000,000 mark as well as a reaching a new zenith in terms of market share.

On the other side of the monthly employment situation, the April unemployment rate was 4.4 percent and that was lower -- but the U.S. Bureau of Labor Statistics labeled as "little changed" -- March's 4.5 percent. The last time it was 4.4 percent was in May 2007. See the Household Survey section below for more detail.
Jobs Report
The number of private-sector jobs grew by 194,000 in April and that was certainly an improvement from March's "barely a speed bump" of growth of 77,000. A year ago, in April 2016, the economy added 158,000 private-sector jobs.
The private Goods-producing sector was up 21,000 in April and that only slightly less than the increase of 23,000 in March; however, a year ago, in April 2016, it was down by 9,000.
Manufacturing growth, which had increased 13,000 in March, slowed with growth of only 6,000 in April; however, a year ago in April 2016, manufacturing was up only 1,000 jobs.

The Construction sector, which had been growing like mushrooms after a spring rain during the winter, was up 5,000 in April after relatively weak growth of only 1,000 in March but we need to point out this follows growth of 54,000 in February; a year ago, in April 2016, it was down 1,000.

Mining and logging, which had declined 9,000 one year ago in April 2016, was up 10,000 in April after adding 9,000 in March.
The private Service-providing sector gained an impressive 173,000 jobs in April, which was a nice improvement after March's gain of only 54,000; a year ago, in April 2016, it was up 167,000.
The job returns in the Retail trade sector in March of 27,400 was only partially offset by growth of 6,300 in April; a year ago, in April 2016, it was down 5,700.

The Wholesale trade sector improved with a gain of 8,200 in April after growth of only 1,100 in March; a year ago, in April 2016, it was up 5,100.

The Transportation and warehousing sector growth slowed with a gain of 3,500 in April after adding 6,600 in March; a year ago, in April 2016, it was up 11,300.

Job growth in the Financial activities sector improved with the addition of 19,000 in April after adding only 4,000 in March; a year ago, in April 2016, it was up 18,000 jobs.

The Professional and business services sector was up only 39,000 in April compared to growth of 57,000 in March
; a year ago, in April 2016, it was up 66,000. Job growth in

Computer systems design and related services

was 2,600 in April after increasing by that same amount in March.

Management and technical consulting services

, was up 7,700 in April after adding 7,100 in March. And

Architectural and engineering services

was up only 2,100 in April after adding 6,900 in March.
The Education and health services sector

added 41,

000 jobs in

April with its

highly seasonal Educational services sub-sector

up 3,900 jobs

.

Home health care services

was up 4,700 jobs in April, which was much stronger than the 1,400 job-growth it experienced in March.

Hiring in the Leisure and hospitality sector geared up for the summer vacation season with a gain of 55,000 in April after adding only 9,000 in March; a year ago, in April 2016, it was up only 15,000.
The total number of Government jobs was up 17,000. In April, the federal government was down 6,000 jobs, State government was flat, and Local government up 23,000.
Temporary Help Services Roundup
Well, it finally happened. Temporary help services topped the 3,000,000-job mark by reaching 3,005,300 in April, which was a gain of 5,800 jobs from March, which was revised upward to 2,999,500. This was sequential growth of 0.2 percent and year-over-year growth of 3.9 percent. For a chart of temporary help's growth from January 1991 to April 2017 and comparing its trend to total employment, click here.
Temporary help's market share in April -- that is its portion of all jobs -- also hit a new high to 2.06 percent, or 2.0575 percent, compared to March's figure of also 2.06 percent but was really incrementally lower at 2.0565 percent. A year ago, in April 2016, it was 2.01 percent, or 2.0114 percent.
(if the chart is unclear, click on it to open in a browser window)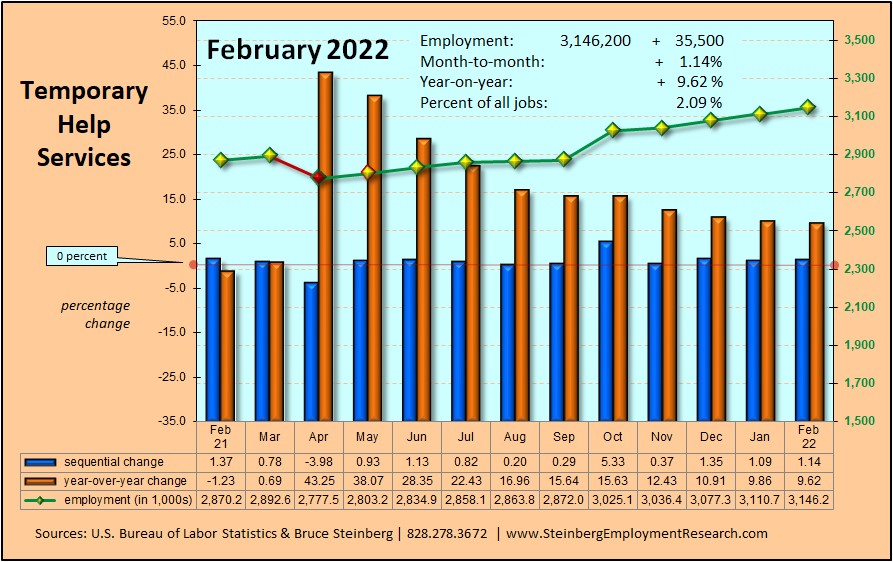 Here are some specifics regarding

April's

unemployment rate of

4.4

percent that

was 0.1 percentage point lower than in March.

The civilian labor force expanded by only 12,000 in April, but there were 156,000 more employed persons and 146,000 fewer unemployed persons. In other words, the growth in the number of employed persons was much greater than the growth in the labor force at the same time the number of unemployed persons declined, so the unemployment rate fell.

The employment-to-population ratio increased 0.1 to 60.2 but the labor force participation rate incrementally declined by 0.1 to 62.9 in April. There were 162,000 more people considered as not the labor force in April.

BTW, we maintain an updated table of many major employment as well as other economic indicators here or here for the mobile version.
---
NEXT EMPLOYMENT REPORT --
FRIDAY,
JUNE 2, 2017