Latest employment projections focusing on temporary help services to 2026 now available ...

We've again put together a free, ten-page report pulling out information that we feel is very relevant to staffing industry executives. It's heavy on data in tables and graphics but not words -- that way we can pack in a lot information in those ten pages.

With the release of biennial employment projections covering 2016 to 2026, data are again available at a very granular level.

It shows good future prospects for temporary help services that is projected to grow by 9.6 percent to 2026, which is greater growth than all employment that is projected to increase by 7.4 percent.

We include not just how specific jobs and jobs groupings fit into the temporary help services picture, but also show how those THS jobs fit into the overall job picture.

For example, there were 711,900 transportation and material moving jobs in 2016, or about one in every four THS jobs, and by 2026 they are expected to increase 11.6 percent, which is faster than overall THS growth. Although only 6.9 percent of all Transportation and material moving jobs were within THS in 2016, this is expected to rise to 7.3 percent by 2026. And by drilling down deeper into the occupation grouping, we learn that 20.2 percent of a specific job with that grouping -- packers and packagers -- will be employed by THS by 2026.

But we don't stop with information about only temporary help services. Other information that staffing professionals can use for long-term planning include several tables that show the industries and sectors with the fastest as well as the largest numerical job growth And we also include information about occupations / jobs that are projected to have the fastest as well as the largest numerical growth.

The report, which is free, can be downloaded from

here. In addition, you may find the previous report, which covered the 2014 to 2024 time period, enlightening how the landscape has changed in two years; it can be downloaded here.
Looking for more? Check out our podcasts!
Podcasts of the current employment situation will be available by 4:00 p.m. ET, Friday, November 3. The video podcast, which you can start and stop to study the tables and graphs as well as replay individual sections, includes additional data and information. Watch the video version here or just listen to the audio version here
(no special hardware or software required), which also can be downloaded to an iPod or any smartphone.
---
Our
Temporary Help Services Interactive Data Book
tool will enable to view the local (down to the county level) temporary help services trends as well as benchmark your local staffing operation to discover exactly where you are positioned in the market and if your offices are performing up to the local market.
Then use our
Employment Tracking Tool
that is designed to assist you in identifying and evaluating new sectors and markets. It examines the overall employment trends by industry in the given market to help determine possibly under-serviced industries to target marketing efforts (as well as what industries to avoid). By doing this, it shows what industries are growing and therefore are in expansion mode making them eager for a wide variety of products and services and likely in need of additional staff.
See further descriptions of these two strategic planning tools and links to the demos
---
October 2017 Employment Report
Quick recap
First, let's go back to the September jobs that was first reported as a 33,000 decline last month. Now, September is being reported as an 18,000 job increase. Recall that two hurricanes hit the country just prior to the survey week and since the government tallies paychecks to count jobs, a lot of people who really had jobs simply did not receive paychecks. In addition, we believe the hurricanes likely impacted the government's ability to count paychecks in the affected areas, despite the government explicitly saying "collection rates generally were within normal ranges, both nationally and in the affected states." Let's just call September's job numbers an outlier and move on.
In October, In August, nonfarm jobs increased 261,000, which was much better than a year ago in September 2016 when job growth was about half that at growth of 124,000.
On the other side of the monthly employment situation, the unemployment rate moved down to 4.1 percent in October, it's lowest level since 2000, from 4.2 percent in September. To repeat what we reported last month, this metric was not as affected by the hurricanes because to be counted as employed a person only has to have a job, regardless if they missed worked and / or if they were paid or not. See the Household Survey section below for more detail.
Temporary help services experienced good growth in October after two months of below par increases.
Jobs Report
Private-sector jobs were up 252,000 in October, but we will not compare them to September's performance for reasons stated earlier. A year ago in October 2016, private-sector jobs increased 132,000.
Although the macro data were likely impacted by the hurricanes in September, the more detailed information -- especially many of the job numbers at the more detailed national sub-sector levels -- were not as affected, so month-over-month comparisons are somewhat valid.
The private Goods-producing sector was up 33,000 in October and that was clearly an improvement from September's growth of 18,000; a year ago, in October 2016, it was up only 9,000.
Manufacturing added 24,000 jobs in October after increasing by 6,000 in September; a year ago in October 2016, manufacturing was down 5,000 jobs.

The Construction sector grew by 11,000 in October and that same number in September; a year ago in October 2016, it was up 16,000.

Mining and logging was down 2,000 in October after adding 1,000 in September; a year ago, in October 2016, it was also down 2,000.
The private Service-providing sector increased 219,000 jobs in October, which was clearly a recovery from September 3,000-job loss; a year ago in October 2016, it was up 123,000.
The Retail trade sector was down 8,300 in October that followed growth of 6,700 in September; in October 2016, it was down 6,800.

The Wholesale trade sector expanded by 5,700 jobs in October after growth of 9,100 in September; a year ago, in September 2016, it was up 3,700 jobs.

The Transportation and warehousing sector growth continued to climb with a gain of 8,400 jobs in October after adding 25,100 in September; a year ago, in October 2016, it increased 11,800 jobs.

Interest declined up a bit in Financial activities with the addition of only 5,000 in October after adding 13,000 in September; a year ago in October 2016, it was up 6,000 jobs.

The Professional and business services sector experienced growth of 50,000 in October compared to an increase of 22,000 in September
; a year ago, in October 2016, it was up 55,000. Job growth in

Computer systems design and related services

was 3,700 in October that computes as better than the increase of 1,600 in September.

Management and technical consulting services

, was also up 3,700 in October that was also better than the 1,100 gain it experienced in September. And

Architectural and engineering services

was up 3,800 in October after adding 2,400 jobs in September.
The Education and health services sector

added 41,

000 jobs in

October with its Health care and social services component increasing 33,500 jobs

.

Home health care services

was up 6,700 jobs in October, which was an improvement from only 700 jobs added in September.

Leisure and hospitality sector, which was likely impacted by the hurricanes in September when it was down 102,000 jobs, bounced back like a beach ball and added 106,000 jobs in October; a year ago, in October 2016, it was up only 11,000.
The total number of Government jobs was up 9,000. In October, the federal government was up 5,000, State government was up 2,000, and Local government was up 2,000.
Temporary Help Services Roundup
After relatively weak growth for two months -- up 8,700 in August and up 7,800 in September -- October looks strong with an increase of 18,300 to 3,075,100 temporary help services jobs. Sequential growth in October 2017 was 0.6 percent with year-over-year growth of 4.1 percent.
For a chart of temporary help's growth from January 1991 to October 2017 and comparing its trend to total employment, click here.
Temporary help's market share -- that is its portion of all jobs -- continued to advance in October and now stands at 2.0916 percent compared to September's 2.0830 percent. A year ago, in October 2016, it was 2.0368 percent.
(if the chart is unclear, click on it to open in a browser window)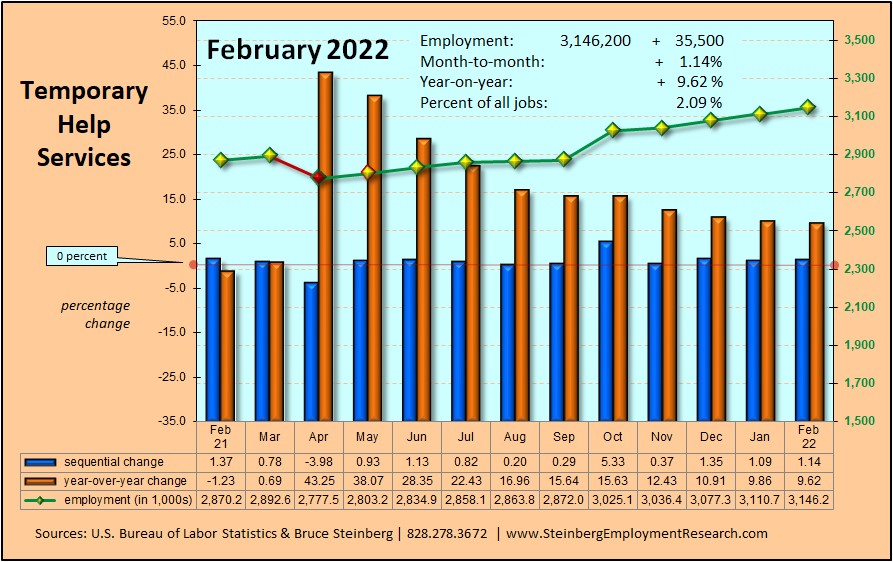 Here are some specifics regarding

October's

unemployment rate of

4.1

percent that

was 0.1 percentage point below September's reading. As mentioned earlier, these data were less impacted by the hurricanes. With that said, there were some fairly large movements in the base data that caused the decline in in October's unemployment rate.

The size of the civilian labor force decreased by 765,000 in October and there were 484,000 fewer employed persons but also 281,000 fewer unemployed persons. In other words, the level of the entire employment river was lower. So, despite there being fewer employed persons, since the size of the entire labor force declined by much more and at the same time there were fewer unemployed persons, the unemployment rate moved lower.

The employment-to-population ratio decreased 0.2 to 60.2 and the labor force participation rate plummeted 0.4 to 62.7 in October. And there were 968,000 more people considered as not the labor force in October.

BTW, we maintain an updated table of many major employment as well as other economic indicators here or here for the mobile version.
---
NEXT EMPLOYMENT REPORT --
FRIDAY,
DECEMBER 8, 2017