Potential explanation why wages do not appear to be rising as unemployment rates at record lows
Recently we looked at the apparent death of the Phillips Curve, which is the inverse relationship between unemployment rates and inflation. In brief, we concluded that the Phillips Curve does seem to be broken on a macro / national level, but still somewhat valid at a micro / detailed level in some regions and for some industries / sectors. To review that discussion that included several factors that influence wage inflation especially at the micro level, click here.
As you may be aware, some, but not all, economists have been scratching their collective heads why wage inflation has been below expectations in the current low unemployment environment. (The ones that are not puzzled by this either do not believe in "cost-push" inflation or, at the least, is not sustainable long-term. For those in this school, the current trend is not necessarily evidence of "wage inflation" underperforming, but is evidence that is isn't there. But we digress.)
There may be an answer -- or at least, a partial explanation -- for the lack of inflation in the current low unemployment environment. It's no surprise that low unemployment is being driven by the increase in the prime-age labor force, which is defined as those between 25 and 54. And that increase -- and please don't shoot the messenger -- is being driven "in particular, prime-age women and especially women without a college degree" according to two economists at the Atlanta Fed. They also discuss and separate the changes due to demographics compared to behavioral / cyclical changes.
The reason for the boom in employment for the less-educated is fairly easy to explain. Those jobs are usually the first to be eliminated during a recession and the last to be created as the economy improves. And here is where the analysis from others gets really interesting.
Those lower-skilled jobs tend to be concentrated in service industries that some believe do not attract men. Of course, plenty of men work in low-skill jobs. But the situation is more than men not willing to work in certain jobs as The Economist magazine reports that researchers point out "there is a correlation between the number of women an industry employs, as a percentage of its workforce, and how many non-managerial jobs it has recently created."
And now gender wage gap and labor force issues also come into play. Some postulate because a significant portion of lower unemployment is being driven because of the influx of women without college degree into low skill jobs and additionally factoring in the gender wage gap, overall wage inflation is not showing up as expected in the overall current low unemployment environment at the macro level.
If you wish to look at this issue in further detail, the Atlanta Fed macroblog post is here and The Economist's article, "Women alone are driving a recovery in workforce participation", referenced is linked here.
With that said, there are wage increases in some sectors and / or regions, which could be a result of those sectors / regions are emerging that are driving the next stage of the recovery. For example, the impact of technology and the new preference for many consumers for buying "stuff" affects those industries / sectors in the business of selling and supplying that "stuff." But, supplying "experiences", which is of course a service industry, will continue to need lots of people and cannot be easily mechanized, although many are trying.
Do you have another view of this subject? Let us know.
Our
Temporary Help Services Interactive Data Book
tool will enable to view the local (down to the county level) temporary help services trends as well as benchmark your local staffing operation to discover exactly where you are positioned in the market and if your offices are performing up to the local market.
Then use our
Employment Tracking Tool
that is designed to assist you in identifying and evaluating new sectors and markets. It examines the overall employment trends by industry in the given market to help determine possibly under-serviced industries to target marketing efforts (as well as what industries to avoid). By doing this, it shows what industries are growing and therefore are in expansion mode making them eager for a wide variety of products and services and likely in need of additional staff.
See further descriptions of these two strategic planning tools and links to the demos
---
New employment projections focusing on temporary help services to 2024 now available ...
We've put together a free, ten-page report pulling out information that we feel is very relevant to staffing industry executives.
It's heavy on data in tables and graphics but not words -- that way we can provide a lot information in those ten pages.
With the release of biennial employment projections covering 2014 to 2024, data are now available at a more granular level. So instead of only being able to report projections for the entire employment service sector -- which include temporary help services, professional employment organizations, employment placement agencies, and executive search services -- as in the past, we are able to focus in on only temporary help services.
But we don't stop with information with only temporary help services. Other information that staffing professionals can use for long-term planning include several tables that show the industries and sectors with the fastest as well as the largest numerical job growth And we also include information about the occupations / jobs that are projected to have the fastest as well as the largest numerical growth.
Call us crazy -- you wouldn't be the first -- because all of this valuable information is free. The report can be downloaded from here. And check out the bookmark function in your PDF viewer ... it enables the reader to skip around the report and also is a de facto table of contents.
---
Looking for more? Check out our podcasts!
Podcasts of the current employment situation will be available by 4:00 p.m. ET, Thursday, July 3rd. The video podcast, which you can start and stop to study the tables and graphs as well as replay individual sections, includes additional data and information. Watch the video version here or just listen to the audio version here (no special hardware or software required), which also can be downloaded to an iPod or any smartphone.
August 2017 Employment Report
Quick recap
Overall job growth was a very ho-hum 156,000 in August and was a retreat from July's growth of 189,000; one year prior in August 2016, growth was 176,000. Temporary help services was essentially flat and still above 3,000,000 for the fifth consecutive month but retreated slightly in terms of market share.

On the other side of the monthly employment situation, the August unemployment rate ticked up to 4.4 percent, which was marginally higher from July's 4.3 percent, with little movement in its underlying components. See the Household Survey section below for more detail.
Jobs Report
The number of private-sector jobs grew by 165,000 in August and that was a disappointment from July's growth of 202,000. However a year ago, in August 2016, the economy only added 143,000 private-sector jobs.
The private Goods-producing sector was up 70,000 in August and that was a nice improvement from July's growth of 23,000; a year ago, in August 2016, it was down 24,000.
Manufacturing grew by 36,000 in August after adding 26,000 in July, which followed a decent June that grew 21,000; a year ago in August 2016, manufacturing was down 17,000 jobs.

The Construction sector regained solid footing with an increase of 28,000 after slipping by 3,000 in July; a year ago in August 2016, it was down 4,000.

Mining and logging got up and shook itself off with a gain of 6,000 in August after a flat performance in July; a year ago, in August 2016, it was down 3,000.
The private Service-providing sector gained only 95,000 jobs in August, which was clearly off from July's growth of 179,000; a year ago in August 2016, it was up 167,000.
The Retail trade sector limped forward with only 800 more jobs in August that followed shrinkage of 1,900 in July; in August 2016, it was up by 16,700.

The Wholesale trade sector was fairly stable with a gain 6,300 jobs in August after growth of 6,100 in July; a year ago, in August 2016, it was up only 3,000 jobs.

The Transportation and warehousing sector growth seemed stuck in low gear with growth of only 1,900 in August after adding 1,600 in July; however, a year ago, in August 2016 it was up 18,500.

Interest was weak but steady in Financial activities with the addition of only 10,000 in August after adding that same number in July; a year ago in August 2016, it was up 50 percent more with growth of 15,000 jobs.

The Professional and business services sector slowed with growth of 40,000 in August compared to growth of 50,000 in July
; however that was better than a year ago in August 2016 when it was up only 31,000. Job growth in

Computer systems design and related services

was 8,000 in August that computes better than the increase of 5,300 in July.

Management and technical consulting services

, was up 3,100 in August that was not as good as the 6,000 gain it experienced in July. And

Architectural and engineering services

was up 4,400 in August after adding 2,400 jobs in July.
The Education and health services sector

added 25,

000 jobs in

August with its

highly seasonal

private

Educational services sub-sector

up 9,600 jobs

.

Home health care services

was essentially flat with a decline of 200 jobs in August; it appears this sector was taking a respite after adding 12,300 jobs in July.

Leisure and hospitality sector started its postseason hiring siesta with a gain of only 4,000 in August after increasing by 58,000 in July; a year ago, in August 2016, it was up 21,000.
The total number of Government jobs was down 9,000. In August, the federal government was down 1,000, State government was down 5,000, and Local government was down 3,000.
Temporary Help Services Roundup
Temporary help services topped the 3,000,000-job mark for the fifth consecutive month, but it was essentially unchanged from the previous month. In August, there were 3,037,600 temporary help services jobs, which technically growth of 100 jobs, but in reality, was flat; however July's number was revised to growth of 10,100; a year ago in August 2016, it was up only 1,000 jobs. Sequential growth in August was 0.003 percent with year-over-year growth of 4.3 percent. For a chart of temporary help's growth from January 1991 to August 2017 and comparing its trend to total employment, click here.
Temporary help's market share in August -- that is its portion of all jobs -- slipped a bit at 2.07 percent, or 2.0702 percent, in August compared to July's figure of 2.07 percent, or 2.0723 percent. A year ago, in August 2016, it was 2.01 percent, or 2.0130 percent.
(if the chart is unclear, click on it to open in a browser window)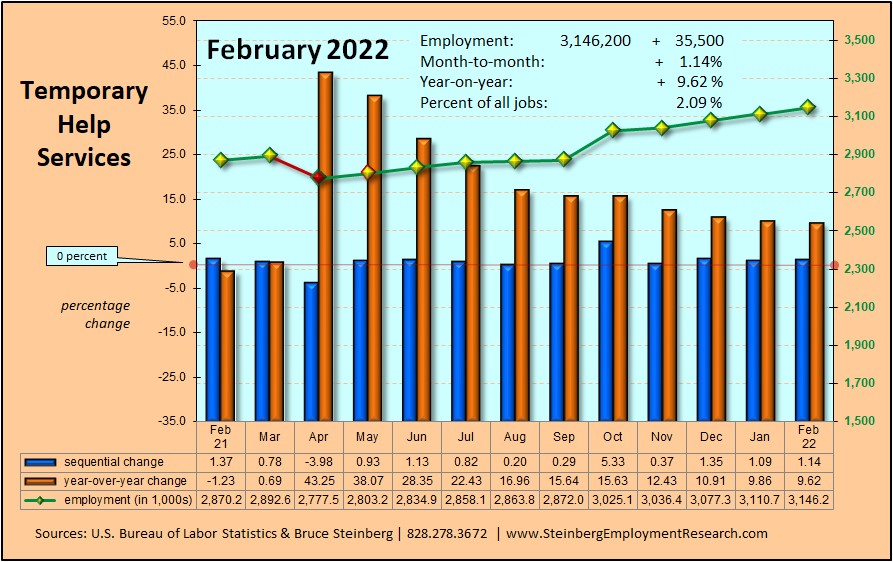 Here are some specifics regarding

August's

unemployment rate of

4.4

percent that

was 0.1 percentage point above July's reading.

The civilian labor force expanded by only 77,000 in August and there were 74,000 fewer employed persons but 151,000 more unemployed persons. In other words, the number of unemployed persons increased at the same time the number of employed persons decreased while the labor force expanded, but by a relatively small number. Therefore, the unemployment rate incrementally rose.

The employment-to-population ratio declined 0.1 to 60.1 and the labor force participation rate was unchanged at 62.9 in August. There were 128,000 more people considered as not the labor force in August.

BTW, we maintain an updated table of many major employment as well as other economic indicators here or here for the mobile version.
---
NEXT EMPLOYMENT REPORT --
FRIDAY,
OCTOBER 6, 2017