Tight Labor Market's Negative Impact on Temporary Help Services ...
Two days ago the Federal Reserve Board released the latest version of its Beige Book, which is a compilation of anecdotal observations about various aspects of the economy gathered by each of the Fed's 12 district banks via staff interviews with local sources in a wide variety of industries and sectors.
Although the original document is nearly 15,000 words, we distill it down to less than 5,000 words to focus on developments relative to the staffing sector, including IT staffing, as well as overall regional labor trends and other sectors of special importance to all staffing sectors.
The May Beige Book should be of special interest to staffing professionals and observers because it contained a number of comments about the tightness of the labor market and how temporary help services as well as IT staffing services are coping with the situation. Overall, business clients recognized the tightness of the labor market so staffing services are generally able to increase pay and bill rates.
The tight labor market appears to have hit New England staffing services especially hard: "All of the contacted staffing firms in New England saw revenues decline year-over-year for their temporary placements, while one respondent saw an overall increase in revenue because of strong activity on the permanent placements side of the business. Although one firm recently lost a big client and seeks to broaden its listings, the revenue declines mostly reflect difficulty recruiting applicants."
The section contributed by the Federal Reserve Bank of Cleveland, which covers Kentucky, Ohio, and parts of Pennsylvania and West Virginia, reports "Banking contacts noted significant wage pressure for IT staff and compliance personnel. High turnover remains an issue in the freight transportation industry. In order to retain drivers, one firm increased driver pay by 3 cents per mile, equating to a 7.5 percent wage increase. Attracting qualified applicants for low-skilled manufacturing jobs is difficult, and many newly hired workers prove to be unreliable. That said, competition for low-skilled workers is strong and is driving up starting wages."
And this Beige Book offers some insights on how some staffing services are coping with the tight labor market. "Firms are brainstorming and trying new ways to recruit people to fill their clients' jobs. Two firms are spending more money on recruitment. Two firms are working with non-profits to find and attract more qualified employees. One firm hired an additional internal staff member who will focus on social media as a recruitment tool. Two firms raised their referral and signing bonuses and one firm will pay college tuition for qualified employees to receive a degree related to their job. [However,] Looking forward, staffing firms are not as optimistic as they were last quarter."
To see our summation -- and to sign up to receive future summations -- go here.
Our
Temporary Help Services Interactive Data Book
tool will enable to view the local (down to the county level) temporary help services trends as well as benchmark your local staffing operation to discover exactly where you are positioned in the market and if your offices are performing up to the local market.
Then use our
Employment Tracking Tool
that is designed to assist you in identifying and evaluating new sectors and markets. It examines the overall employment trends by industry in the given market to help determine possibly under-serviced industries to target marketing efforts (as well as what industries to avoid). By doing this, it shows what industries are growing and therefore are in expansion mode making them eager for a wide variety of products and services and likely in need of additional staff.
See further descriptions of these two strategic planning tools and links to the demos
---
Employment projections focusing on temporary help services to 2024 now available ...
We've put together a free, ten-page report pulling out information that we feel is very relevant to staffing industry executives.
It's heavy on data in tables and graphics but not words -- that way we can provide a lot information in those ten pages.
With the release of biennial employment projections covering 2014 to 2024, data are now available at a more granular level. So instead of only being able to report projections for the entire employment service sector -- which include temporary help services, professional employment organizations, employment placement agencies, and executive search services -- as in the past, we are able to focus in on only temporary help services.
But we don't stop with information with only temporary help services. Other information that staffing professionals can use for long-term planning include several tables that show the industries and sectors with the fastest as well as the largest numerical job growth And we also include information about the occupations / jobs that are projected to have the fastest as well as the largest numerical growth.
Call us crazy -- you wouldn't be the first -- because all of this valuable information is free. The report can be downloaded from here. And check out the bookmark function in your PDF viewer ... it enables the reader to skip around the report and also is a de facto table of contents.
---
Looking for more? Check out our podcasts!
Podcasts of the current employment situation will be available by 4:00 p.m. ET, Thursday, July 3rd. The video podcast, which you can start and stop to study the tables and graphs as well as replay individual sections, includes additional data and information. Watch the video version here or just listen to the audio version here (no special hardware or software required), which also can be downloaded to an iPod or any smartphone.
May 2017 Employment Report
Quick recap
Overall job growth was only 138,000 in May, which was below consensus estimates and below April's 174,000 but still much better than one year prior growth of only 43,000 of May 2016. Temporary help services growth continued with its second consecutive month above 3,000,000 as well as a reaching a new high in terms of market share.

On the other side of the monthly employment situation, the May unemployment rate was 4.3 percent and that was lower than April's 4.4 percent. The last time it was 4.3 percent was 16 years ago in May 2001. However, the low unemployment rate is not because more people had a job. See the Household Survey section below for more detail.
Jobs Report
The number of private-sector jobs grew by 147,000 in May and that was less than the 173,000 gain in April. And March's "barely a speed bump" of growth was revised further downward to only a 59,000 increase. A year ago, in May 2016, the economy added only 17,000 private-sector jobs.
The private Goods-producing sector was up 16,000 in May and that only slightly lower than the increase of 19,000 in April; however, a year ago, in May 2016, it was down by 44,000.
Manufacturing growth, which had increased 11,000 in April, lost 1,000 jobs in May; however, a year ago in May 2016, manufacturing was down 21,000 jobs.

The Construction sector, which had been growing like mushrooms after a spring rain during the winter, may have regained its mojo and was up 11,000 in May after losing 1,000 in April; a year ago, in May 2016, it was down 14,000.

Mining and logging, which had declined 9,000 one year ago in May 2016, was up 6,000 in May after adding 9,000 in April.
The private Service-providing sector gained 131,000 jobs in May, which was less than April's growth of 154,000; a year ago, in May 2016, it was up 61,000.
Reports of the death spiral of the Retail trade sector does not appear to be fake news as it continued to suffer with a loss of 6,100 in May that follows losses of 5,800 in April and a whopping 39,500 in March; a year ago, in May 2016, it was up 8,800.

The Wholesale trade sector lost 2,100 jobs in May after growth of 6,000 in April; a year ago, in May 2016, it was down 4,000.

The Transportation and warehousing sector got moving with growth of 3,600 in May after being essentially flat in April with a 200-job decline; a year ago, in May 2016, it was up 6,400.

Job growth in the Financial activities sector improved with the addition of 11,000 in May after adding 14,000 in April; a year ago, in May 2016, it was up 14,000 jobs.

The Professional and business services sector was up 38,000 in May, which was the same amount of growth it experienced in
April; a year ago, in May 2016, it was up only 28,000.

Computer systems design and related services

was essentially flat with a 200-job decline in May after increasing by 1,200 in April. However,

Management and technical consulting services

, was up 6,4

00 in

May

after adding 7,

9

00 in

April

.

But

Architectural and engineering services

was up only 400

in

May

after adding

only 100 jobs in April

.

The Education and health services sector

added 47,

000 jobs in

May with its

highly seasonal Educational services sub-sector

up 14,700 jobs

.

Home health care services

was up 2,500 jobs in May, which was much weaker than the 6,300-job growth it experienced in April.

Hiring in the Leisure and hospitality sector continued to staff up for the summer vacation season with a gain of 31,000 in May after adding 58,000 in April; a year ago, in May 2016, it was up only 9,000.

The total number of Government jobs was down 9,000. In May, the federal government was up 8,000 jobs, State government was down 8,000, and Local government down 9,000.

Temporary Help Services Roundup

Temporary help services growth accelerated and topped the 3,000,000-job mark for the second consecutive month with 3,016,300 jobs in May, which was a gain of 12,900 jobs. This was sequential growth of 0.4 percent and year-over-year growth of 4.9 percent. For a chart of temporary help's growth from January 1991 to May 2017 and comparing its trend to total employment, click here.

Temporary help's market share in May -- that is its portion of all jobs -- also hit a new high and topped 2.06 percent, or 2.0641 percent, compared to April's figure of also 2.06 percent but was incrementally lower at 2.0572 percent. A year ago, in April 2016, it was just under 2.00 percent, or 1.9989 percent.

(if the chart is unclear, click on it to open in a browser window)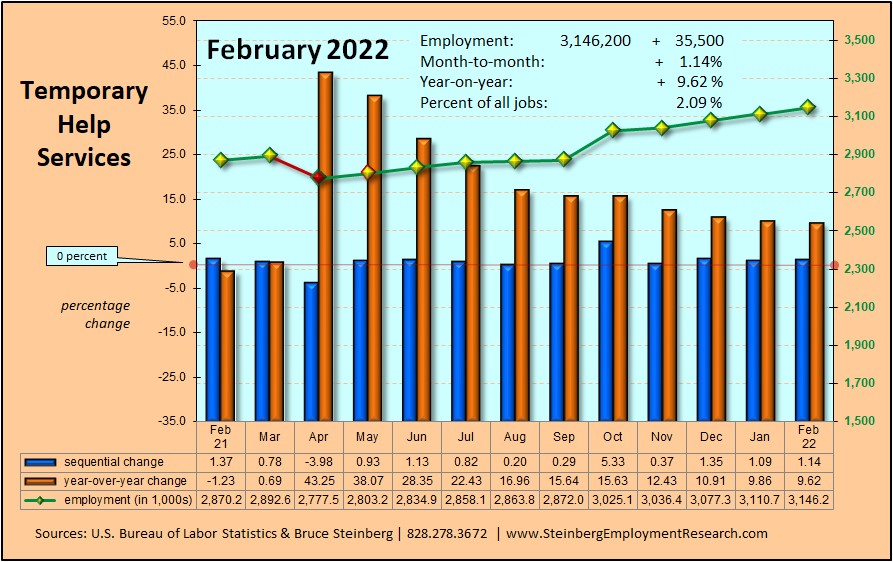 Here are some specifics regarding

May's

unemployment rate of

4.3

percent that

was 0.1 percentage point lower than in April.

The civilian labor force contracted by 429,000 in May, and there were 233,000 fewer employed persons and also 195,000 fewer unemployed persons. In other words, the relatively large decline in the number of employed persons and although the number of unemployed persons also declined, the contraction in the size of the labor force was so big that the unemployment rate fell to a level it has not been at in 16 years.

The employment-to-population ratio decreased 0.2 to 60.0 and the labor force participation rate also declined by 0.2 to 62.7 in May. There were 608,000 more people considered as not the labor force in May.

BTW, we maintain an updated table of many major employment as well as other economic indicators here or here for the mobile version.
---
NEXT EMPLOYMENT REPORT -- FRIDAY,
JULY 7, 2017