What is the Phillips Curve and is it dead? ... the definitive answer: maybe, maybe not
Staffing and HR professionals should familiarize themselves with the Phillips Curve, which looks at the inverse relationship between unemployment and wage inflation. In a nutshell, low unemployment means high wage growth according to Phillips.
William Phillips (1914-1975) was a neo-Keynesian economist who spent a majority of his academic career at the London School of Economics. Other economists have built upon the Phillips Curve concept to look at overall inflation since the prices a company charges are closely influenced by its wage structure. Obviously, all of this has strong implications when it comes to setting monetary policy.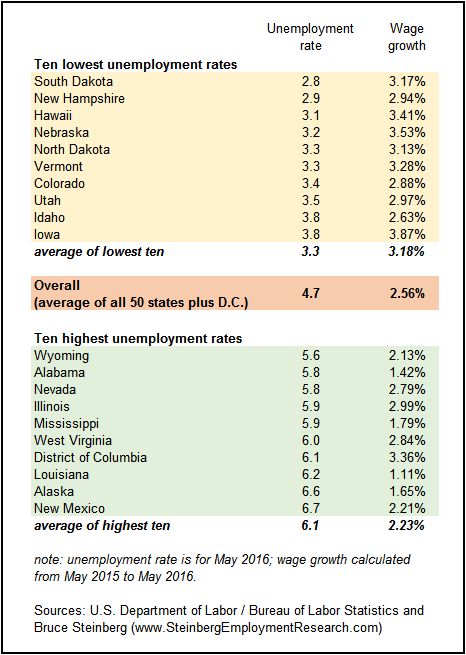 In the most recent edition of the Federal Reserve Board's Beige Book, there was an observation from the Federal Reserve Bank of Philadelphia that "Contacts from staffing firms in labor markets with lower unemployment rates have noted greater wage pressure, while contacts operating in markets with higher unemployment rates report minimal wage pressure." That almost sounds like a textbook definition of the Phillips Curve, but the author was probably careful not to call it that. That's because there is a fair amount of controversy associated with the Phillips Curve because many believe that the connection between low unemployment and wage increases – and hence, general inflation – is influenced by a host of other factors.
One current economic trend that has many somewhat baffled is that recently the Phillips Curve does not seem to be working, going as far as to say "The Phillips Curve Is Dead: Why Lower 'Unemployment" No Longer Causes Inflation". Unemployment has been low, but the expected wage growth / inflation has barely materialized, at least on a national basis.
There are several explanations for possible end of the Phillips Curve lead by serious questions of the unemployment rate's reliability and ultimate value as an inflation indicator. For examples, the unemployment rate does not take into account the potential labor pool (if a person is not actively looking for work, they are not considered unemployed), the number of hours worked (the underemployed are considered employed, even if that means only working one hour a week), the quality of work (a person working well below their potential; e.g. a physicist flipping burgers is not unemployed, but we would venture to say that physicist would say they are), as well as taking into account growth in productivity.
As the economy transforms into another phase, looking at macro / national developments and trends could obscure what's going on and create a break of the Phillips Curve. But at a more micro / local level, the Phillips Curve does appear to be occasionally valid as the table illustrates. Although with a few exceptions -- that could be attributed to unique economic characteristics of an individual state -- the ten states with the lowest unemployment rates have significantly higher wage growth that the ten states with the highest unemployment rates.
And with the risk of being politically incorrect, the problems with some macro data can easily be illustrated by saying that the so-called "average" American citizen is about half male and half female (or more precisely, 49.1 percent male and 50.9 percent female), at least according to the 2010 Census.
Our
Temporary Help Services Interactive Data Book
tool will enable to view the local (down to the county level) temporary help services trends as well as benchmark your local staffing operation to discover exactly where you are positioned in the market and if your offices are performing up to the local market.
Then use our
Employment Tracking Tool
that is designed to assist you in identifying and evaluating new sectors and markets. It examines the overall employment trends by industry in the given market to help determine possibly under-serviced industries to target marketing efforts (as well as what industries to avoid). By doing this, it shows what industries are growing and therefore are in expansion mode making them eager for a wide variety of products and services and likely in need of additional staff.
See further descriptions of these two strategic planning tools and links to the demos
---
New employment projections focusing on temporary help services to 2024 now available ...
We've put together a free, ten-page report pulling out information that we feel is very relevant to staffing industry executives.
It's heavy on data in tables and graphics but not words -- that way we can provide a lot information in those ten pages.
With the release of biennial employment projections covering 2014 to 2024, data are now available at a more granular level. So instead of only being able to report projections for the entire employment service sector -- which include temporary help services, professional employment organizations, employment placement agencies, and executive search services -- as in the past, we are able to focus in on only temporary help services.
But we don't stop with information with only temporary help services. Other information that staffing professionals can use for long-term planning include several tables that show the industries and sectors with the fastest as well as the largest numerical job growth And we also include information about the occupations / jobs that are projected to have the fastest as well as the largest numerical growth.
Call us crazy -- you wouldn't be the first -- because all of this valuable information is free. The report can be downloaded from here. And check out the bookmark function in your PDF viewer ... it enables the reader to skip around the report and also is a de facto table of contents.
---
Looking for more? Check out our podcasts!
Podcasts of the current employment situation will be available by 4:00 p.m. ET, Thursday, July 3rd. The video podcast, which you can start and stop to study the tables and graphs as well as replay individual sections, includes additional data and information. Watch the video version here or just listen to the audio version here (no special hardware or software required), which also can be downloaded to an iPod or any smartphone.
June 2017 Employment Report
Quick recap
Overall job growth was a very respectable 222,000 in June that was a very nice improvement from May's gain of 152,000; however one year prior in June 2016, growth was 297,000. Temporary help services growth continued and was above 3,000,000 for the third consecutive month as well as a reaching a new high in terms of market share.

On the other side of the monthly employment situation, the June unemployment rate was 4.4 percent and that was marginally higher -- which the U.S. Bureau of Labor Statistics labeled as "little changed" -- from May's 4.3 percent, but that development is not necessarily a bad development at this point in the economic cycle. See the Household Survey section below for more detail.
Jobs Report
The number of private-sector jobs grew by 187,000 in June and that was an improvement from May's growth of 159,000. However a year ago, in June 2016, the economy added 269,000 private-sector jobs.
The private Goods-producing sector was up 25,000 in June and that was considerably better than the increase of 13,000 in May; a year ago, in June 2016, it was up only 6,000.
Manufacturing growth, which had declined 2,000 in May, added 1,000 jobs in June; but a year ago in June 2016, manufacturing was up 12,000 jobs.

The Construction sector may have started on the road to "getting its groove back" and was up 16,000 in June after growth of only 9,000 in May; a year ago, in June 2016, it was flat.

Mining and logging, also may have started to dig out from its recent decline with a gain of 8,000 in June on top of adding 6,000 jobs in May; a year ago, in June 2016, it was down 6,000.
The private Service-providing sector gained 162,000 jobs in June, which was a nice improvement after May's growth of 146,000; however a year ago in June 2016, it was up 263,000.
The Retail trade sector reversed direction of the past few months with growth of 8,100 jobs in June that followed a decline of 7,200 in May and a discount (decrease) of 4,000 in April; we doubt if this marks the beginning of the rebirth of this sector since a year ago, in June 2016, it was up by 24,500.

The Wholesale trade sector improved with a gain of 10,000 in June after growth of only 1,600 in May; a year ago, in June 2016, it was up only 700 jobs.

The Transportation and warehousing sector growth slowed with a gain of 2,400 in June after adding 11,600 in May; a year ago, in June 2016, it was down 5,100.

Job growth in the Financial activities sector was consistent and even improved with the addition of 17,000 in June after adding 13,000 in May; a year ago, in June 2016, it was up 17,000 jobs.

The Professional and business services sector was up only 35,000 in June compared to growth of 56,000 in May
; a year ago, in June 2016, it was up 59,000. Job growth in

Computer systems design and related services

was up 4,900 in June after increasing by 5,400 in May.

Management and technical consulting services

, was up 2,500 in June after adding 5,300 in May. However,

Architectural and engineering services

was up 5,400 in June after adding only 2,000 jobs in May.
The Education and health services sector

added 45,

000 jobs in

June with its

highly seasonal

and under-fire private

Educational services sub-sector

down 14,100 jobs

.

Home health care services

was up 6,600 jobs in June, which was much stronger than the 2,800 job-growth it experienced in May.

Hiring in the Leisure and hospitality sector continued to gear up for the summer vacation season with a gain of 36,000 in June after adding 25,000 in May; however a year ago, in June 2016, it was up 49,000.
The total number of Government jobs was up 35,000. In June, the federal government was up 4,000 jobs, State government was down 4,000, and Local government was up, you guessed it, by 35,000.
Temporary Help Services Roundup
Temporary help services topped the 3,000,000-job mark for the third consecutive month. In June, there were 3,031,200 temporary help services jobs, which was a gain of 13,400 jobs but slightly off the pace of the 16,800-job increase observed in May. Sequential growth in June was 0.4 percent with year-over-year growth of 4.7 percent. For a chart of temporary help's growth from January 1991 to June 2017 and comparing its trend to total employment, click here.
Temporary help's market share in June -- that is its portion of all jobs -- also hit a new high to 2.07 percent, or 2.0704 percent, compared to May's figure of 2.06 percent, or 2.0644 percent. A year ago, in June 2016, it was just under 2.01 percent, or 2.0074 percent.
(if the chart is unclear, click on it to open in a browser window)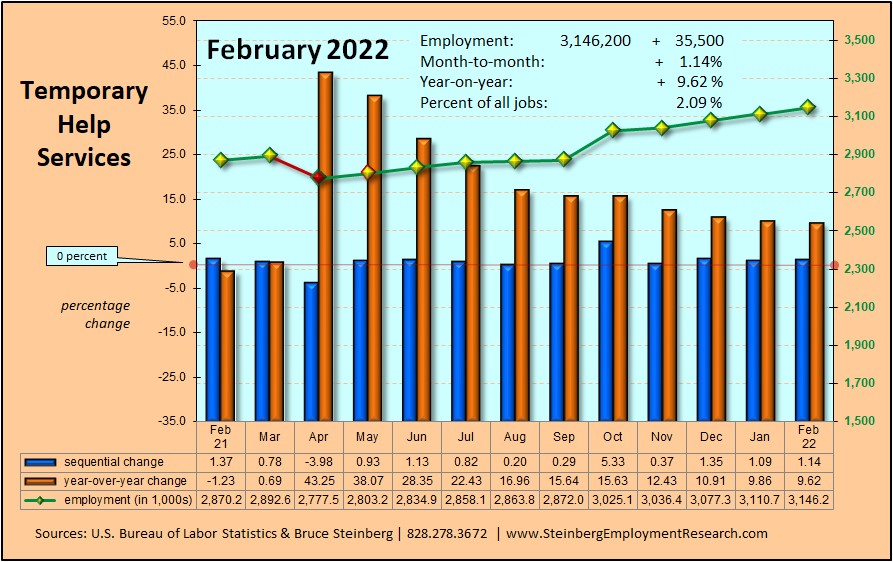 Here are some specifics regarding

June's

unemployment rate of

4.4

percent that

was 0.1 percentage point higher than in May.

The civilian labor force expanded by 361,000 in June, and there were only 245,000 more employed persons and 116,000 more unemployed persons. In other words, the growth in the number of employed persons was not large enough to absorb the growth of the labor force, so the number of unemployment persons expanded and therefore, the unemployment rate incrementally increased.

Actually the increase in the unemployment rate is not a cause for alarm yet. As people who were on the sidelines and not looking for a job believe that their job prospects are improving, they reenter the labor force, except at a greater number than the employment economy can absorb them.

The employment-to-population ratio increased 0.1 to 60.1 and the labor force participation rate also improved by 0.1 to 62.8 in June. There were 170,000 fewer people considered as not the labor force in June.

BTW, we maintain an updated table of many major employment as well as other economic indicators here or here for the mobile version.
---
NEXT EMPLOYMENT REPORT --
FRIDAY,
AUGUST 2, 2017